This time I am greeting you from Czech Republic on my way home from a wonderful vacation. Muuuuum, I don't want to go hoooooome! No, just kidding, I am always glad to be home. Anyway...
Today a brand new challenge starts at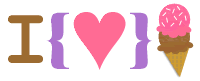 and it couldn't be more obvious
BY THE SEA / BEACH
We are sponsored by
with their cute images, so you better enter!
This time I've decided to make a collage card and give it a little vintage feeling. Just like the old-fashioned postcards.
I am using the sponsor's stamp 'Chloe with Ice Cream' together with some freshly bought new shades of Promarkers. My collection is still not complete, but I am trying to do my best LOL The stamp is placed on a 3D foam.
For this card I used the Kaisercraft's '
Paradiso
' paper pack with so many fab details. I also added some post stamps, which I adore.
There is no sentiment this time, I only used some words describing the vacation from the paper collection.
Thank you for visiting my blog!
I am entering the following challenges: